Welcome to Uncle Mel's Super Golden Oldies Page. This is where I will share selected music videos, music streams, article links and more on the music that I like best from the 1960s, 1970s and early 1980s. I am still a huge fan of all of the old songs I grew up with and this will be this blog's gateway to many oldies posts and pages that I have published in the past as well as links to newer resources.
This page will always be in a state of "under construction". Hopefully the content here will grow and this page will stand as a resource for anyone who likes older music and possibly looking for older records, CDs and online music.
Be sure to scroll all the way down to the bottom of the page to make sure you see and listen to all of the embedded music streams.
---
Island Summer 60s & 70s
This is a compilation album released in 2004 by Neos Productions.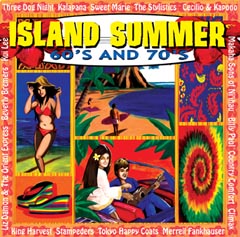 I was a consultant on this compilation CD which features several hits that were unique to Hawaii radio. Among those are "Remember Mary" by The Sweet Marie and "Forever More" by the Tokyo Happy Coats. Read more about this album at the following links:
The album has been out for about 5 years now and may be getting a little harder to find.
---
CHARTS, CHARTS, CHARTS
The following contain links to various oldies charts on the web.
From the
Hawaii Radio & Television Guide Archive
, old Hawaii radio charts.
Charts from around the Internet
---
UNCLE MEL'S CLASSIC OLDIE MIXES
From 8Tracks.com
This mix features songs that were hits on Hawaii radio in the 1960s and 1970s.
Super Golden Oldies features a mix of hard to find oldies from the 60s & 70s
Ten oldies from the year 1971 - one of my favorite years of the 1970s
Super Golden Oldies 2 - more obsure hits from the 60s and 70s.
It's Rock of the 80s again! Modern rock, new wave, retro-alternative, more.
A touch of yesterday's best classic rock - 16 tracks
It's disco dancing time from the 1970s and early 80s again.
Classic country music like it used to be.
Easy listening music from many years ago.
---
FLICKR PHOTO STREAMS
Various pictures and slideshows.
Photos of vinyl records that I still own.
More Photos:
CDs
|
Cassette Tapes
---
Devil Woman - Cliff Richard
---
Send Me a Postcard - The Shocking Blue
---
Herb Alpert & the Tijuana Brass - The Lonely Bull
---
The Beatles - She Loves You (live 1963)
---
Middle of the Road - Chirpy Chirpy Cheep Cheep
---
Walter Egan - Magnet and Steel
---
The Tourists - I Only Want to Be With You